Your accountant will schedule a Chime Meeting with you to discuss your customer projects so that they can establish the tasks and due dates that need to be setup in your QuickBooks Online account. It is also important to identify if there are income or expense transactions that will need to be mapped to the new customer projects. The project module is only available in the QuickBooks Online Plus and QuickBooks Online Advanced subscriptions. Adding customer projects will provide you with valuable job costing and project profitability insights. Only one customer can be assigned to a project in QBO.
Your Accountant can Create Custom Project Templates in QBO
Your accountant will create your customer projects and related tasks with due dates once you have provided this information. There are four quick-start templates in QuickBooks Online that can be utilized for project setup. Your accountant can create Custom Project Templates that are unique for your line of business. The total wages, taxes and overhead for each worker on a project can also be included when you have employee's setup. Once a project template has been setup in QuickBooks Online it can be reused for future projects.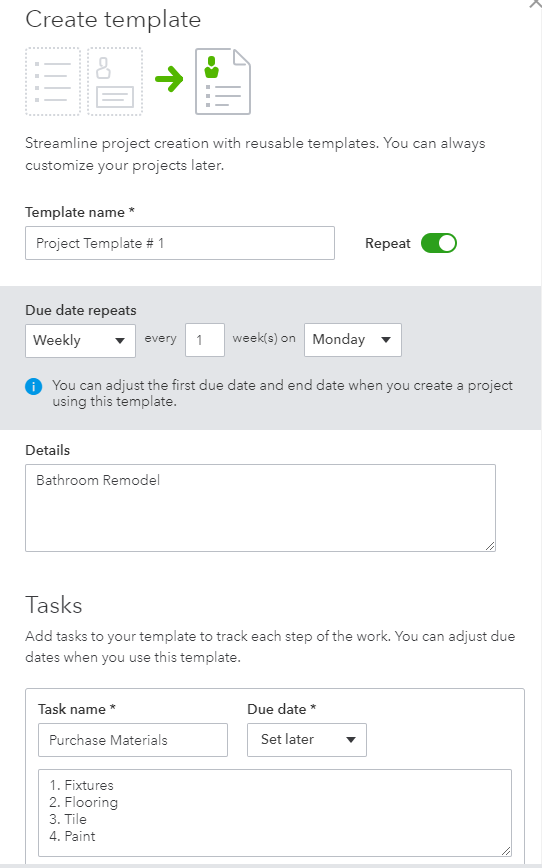 Your Accountant will Map Income & Expenses to New Projects
Your accountant will map existing transactions to new projects in QuickBooks Online. Detailed information for existing transactions, including purchase orders, estimates, invoices, deposits, payments, sales receipts, bills and expenses must be provided to your accountant prior to the setup of new projects. This will establish the structure of the projects and provide you with detailed project profitability and job costing report options. With this service, your accountant will send you a notification requesting project information which will show up on your client dashboard. You can enter project information directly into the request within your client dashboard. Project information can also be uploaded into a folder within your document upload portal or emailed directly to your accountant. Once projects are created and mapped your accountant will upload Project Detail Reports into the From My Accountant folder.
Accounting and Bookkeeping Support by a QuickBooks ProAdvisor Program Member
I founded Lend A Hand Accounting because I believe accounting and bookkeeping services should be affordable, efficient, and flexible. We use flat fee pricing, which makes our accounting services a comfortable fit for any budget. At Lend A Hand Accounting, we've found a formula that really works! You select the accounting services you need, and control when you want to start or stop services. It is all in your hands! We've cut out the need for endless phone calls and long trips to the accountant's office.
Feel free to call or text me now at 360-637-4799. We can also get started right away. Go ahead and create a free account and we can automatically look at your books and let you know where you stand.
We really appreciate your business and look forward to serving all of your accounting and bookkeeping needs. Thanks again!
Gina
The Content is for informational purposes only, you should not construe any such information or other material as legal, tax, investment, financial, or other advice.