When setting up your QuickBooks Online account, it is very important to create a complete and well organized Products and Services list. These products and services will be mapped to your Income and Cost of Goods Sold (COGS) accounts that show up on your Profit and Loss Statement. Every product and service item that your company purchases and sells should be setup in QuickBooks Online. Do not manually enter items on sales and purchase forms.
Your Products and Services are Included in Purchase & Sales Forms
The products and services on your list will show up on your customer estimates, invoices, sales receipts, purchase orders, vendor bills and expenses. When you run sales reports that include your products and services it will be easy for you to determine your sales trends.
If you are setting up purchasing, then you should select, "I purchase this product/service from a vendor" and in the "Cost" field enter $0.00 for the purchase price of the product or service, then enter your preferred vendor if applicable. We recommend entering zero cost so that the most recent purchase of the item will determine the current cost of that item.
In the "Expense account" assign the product or service item to the "Cost of Goods or Services Sold" (COGS) account that is appropriate for the item being purchased, whether it is a product or service item. The item could be a "Labor" (Subcontractor) expense, or it could be a "Material" expense, or "Other" Cost of Goods of Services Sold type expense.
The description that you enter in the "Purchase" section will show up on your Purchase Orders, Bills, Checks, Credit Card and Bank Expenses. Remember to turn-on "Show items table on expense and purchase orders" under "Account and Settings", "Expenses", "Bills and expenses". This is what allows you to pick an item from your Product and Service list.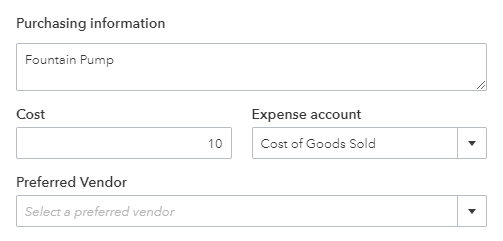 When you create an item, it is linked to a "Sales" account to track the "Income" it produces, and a "COGS" account to track how much you spent on the purchase of the product you sold. When customer invoices or sales receipts are created, the related Income and Expense entries are automatically created in your QuickBooks Online account.
There are 4 Types of Products and Services in QuickBooks Online
Inventory Items – In the Plus version of QuickBooks Online you can add products that you sell, tracking the on-hand quantities and the cost to purchase the items. These items may or may not be taxable products. Remember to turn-on "Track inventory quantity on hand" in "Account and Settings", "Sales", and "Products and Services". Note that you will not be able to create a transaction with an "Inventory" product before the "start date" of your on-hand inventory, so be sure that you enter a start date long before your first purchase or sale date. Do not enter a starting quantity. Enter a value of ZERO, otherwise QuickBooks Online will create an Opening Balance Equity entry.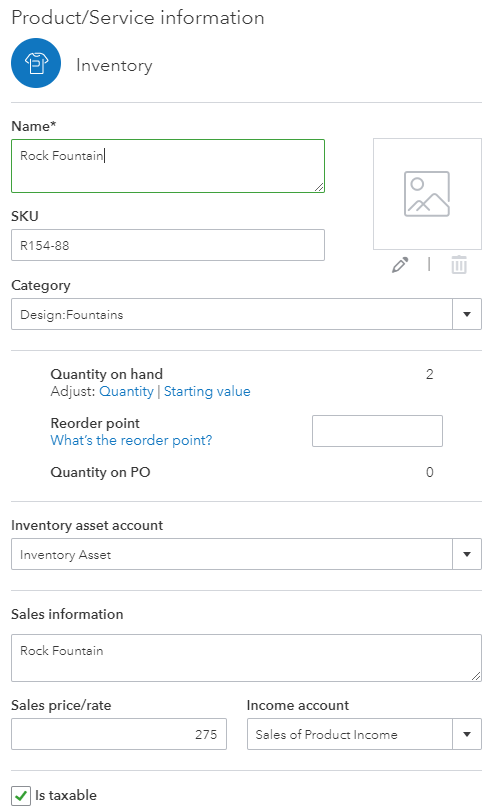 Non-Inventory Items – These are physical products that you sell but you do not track the quantity on-hand. These items may or may not be taxable products. They are typically things that go into an assembly or installation for which you do not customarily, or cannot track quantities of.
Services – These are services that you sell to your clients, they may or may not be taxable services, it depends on the sales tax rules for your state and business type. You may sell repair, design or installation services, or you may sell professional, trade, consulting or technical services.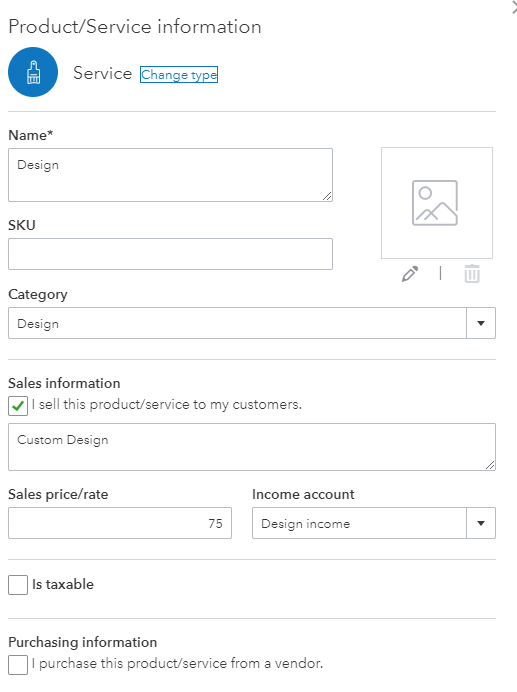 Bundles – These are not "separate" products or services. This would be a bundle of product and service items that are always sold together. You would be choosing pre-existing product and service items to include in the "bundle" After you have created all of your products and services you can group some of them together in a logical order. When you create a bundle of products and services it will be easy for you to select grouped products and services. If you want the customer invoice to show the individual items in the bundle, select "Display bundle components when printing or sending transactions".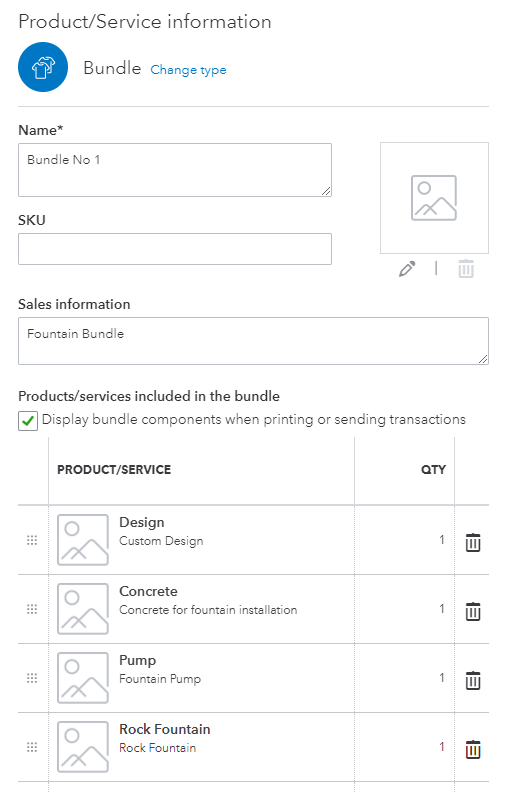 Accounting and Bookkeeping Support by a QuickBooks ProAdvisor Program Member
I founded Lend A Hand Accounting because I believe accounting and bookkeeping services should be affordable, efficient, and flexible. We use flat fee pricing, which makes our accounting services a comfortable fit for any budget. At Lend A Hand Accounting, we've found a formula that really works! You select the accounting services you need, and control when you want to start or stop services. It is all in your hands! We've cut out the need for endless phone calls and long trips to the accountant's office.
Feel free to call or text me now at 360-637-4799. We can also get started right away. Go ahead and create a free account and we can automatically look at your books and let you know where you stand.
We really appreciate your business and look forward to serving all of your accounting and bookkeeping needs. Thanks again!
Gina
The Content is for informational purposes only, you should not construe any such information or other material as legal, tax, investment, financial, or other advice.