There are a few key options for customizing your Sales Forms in QuickBooks Online. Your small business can track a customer from "Estimate" to "Invoice" to "Payment" to "Deposit". QuickBooks Online allows you to customize your customer "Invoices", "Sales Receipts" and "Estimates" by adding your Company Logo and choosing the look and feel you want to present to your customers with each sales form you send to them.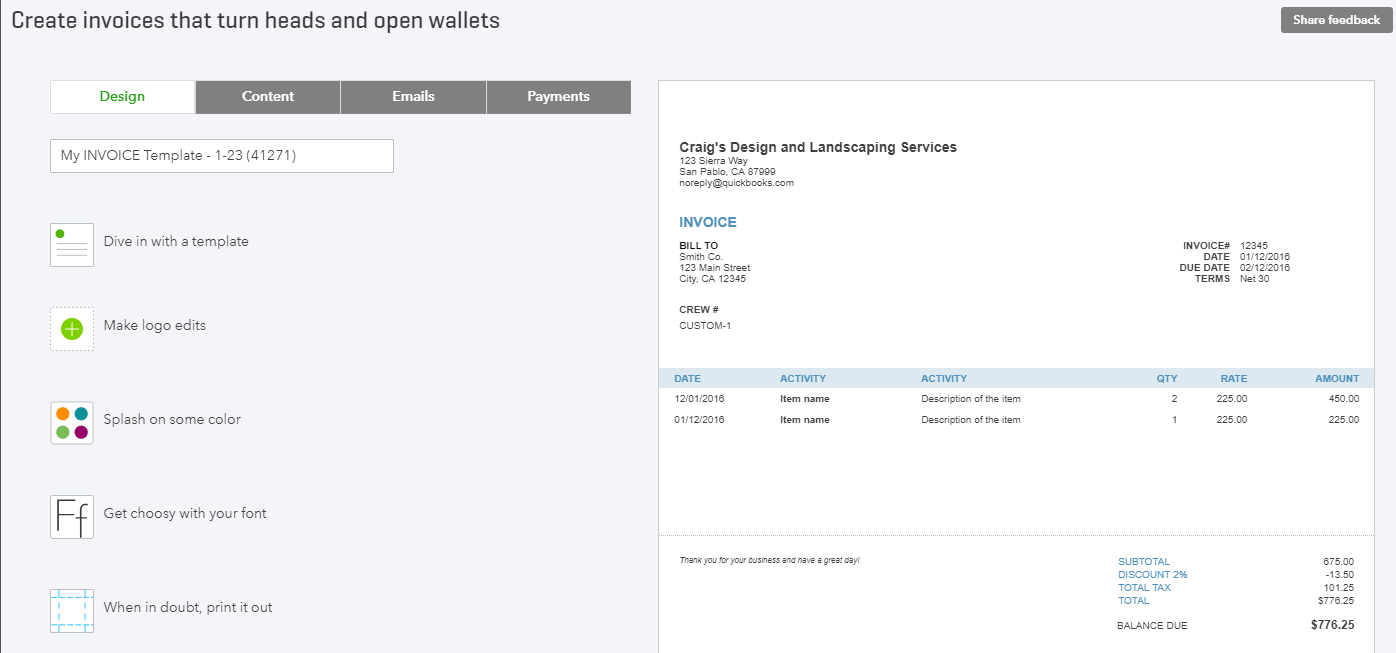 If you will be creating multiple partial invoices from a single estimate, you will need to go-to "Account and Settings", "Sales" and "Progress Invoicing" to turn-on this feature. It is very important to create "Invoices" or "Sales Receipts" for your customer sales transactions. Do not just post customer deposits to income accounts from within your bank feed. If you do not create sales forms, you will not be able to produce sales reports in your QuickBooks Online account.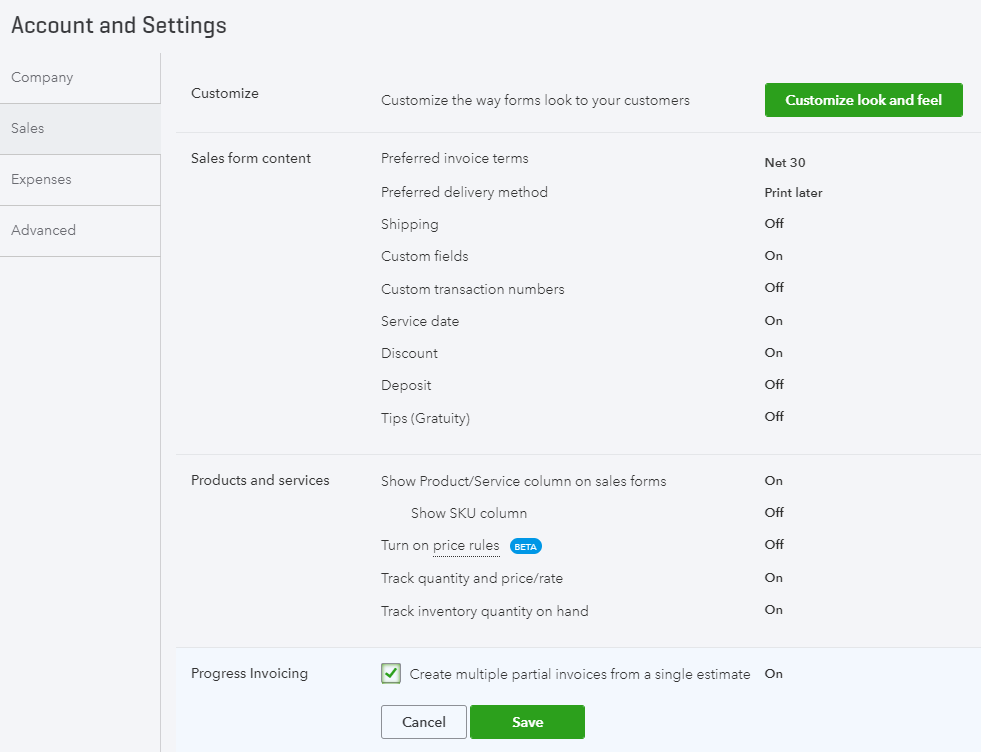 Deposits added directly to income accounts through the bank feed will not show up in the "Sales" module, regardless of whether you assign a customer to the deposit. The reason for this is because there was no actual "Sale" recorded for this customer. This also means that it will not show up in your customer sales reports.

There Different Ways to "Directly" Modify Your Customer Sales Forms in QuickBooks Online
Terms – Select the payment terms you want to offer to your customers
Shipping – You can add fields for shipping addresses and dates
Custom Fields – You can add custom fields to your forms
Service Dates – Service dates per line item that differ from the invoice date
Custom Transaction Number – When you use your own invoice numbering system
Discounts – Gives you the option to apply discounts to a customer's invoice
Deposits – To give you the option to accept a deposit for work to be performed
Message – A message to your customer can be added to all sales forms
There are More Ways to Modify Your Customer Sales Forms within Products and Services
Show Item Number – You can choose to show or hide your internal item numbers
Quantity and Price/Rate – You can turn-on the quantity and price/rate columns
Track Quantity on Hand – You can turn-on inventory tracking to track stock levels
Your Personal Guide to Seamless Accounting: Advanced QuickBooks ProAdvisor at Your Service
Hey there! I'm Gina, and I'm the proud co-founder of Lend A Hand Accounting. Why did I start this? Well, I believe that everyone should have access to affordable, efficient, and flexible accounting and bookkeeping services. It's all about making sure these essential services fit snugly into your budget without any fuss.
We've ditched the traditional hourly rate system and adopted a flat fee pricing. You might be wondering, "Why does this matter?" Well, this way, you know exactly what you're paying for upfront and there are no unexpected surprises. You get to pick and choose the accounting services you need, like a customized menu. And the best part? You're in complete control of when you start or stop using our services. We're essentially just a call or a text away, no need for endless phone calls or draining trips to the accountant's office.
I'm not just any accountant though. I'm an Advanced QuickBooks Online ProAdvisor. That means I'm equipped with advanced expertise and resources to help you leverage QuickBooks Online to its full potential. My goal is to make your accounting process smooth and efficient so you can focus on what you do best – running your business.
Ready to get started? Reach out to me directly at 360-637-4799. We can even kick things off immediately if you're ready. Simply create a free account, and I can instantly take a look at your books and let you know where you stand.
At the end of the day, we're here to serve you. We really appreciate the trust you place in us and we're eager to meet all of your accounting and bookkeeping needs. Looking forward to being part of your team!
Take care,
Gina
The Content is for informational purposes only, you should not construe any such information or other material as legal, tax, investment, financial, or other advice.