We are happy to help you create your Customer Estimates in QuickBooks Online. With this service, your accountant will create customer estimates for active customers using your existing Products and Services List in QBO. You will provide estimate details, including customer information, product, service, quantity, price and method of delivery. Your accountant will send you a notification requesting the estimate information that will show up on your client dashboard. You will be able to enter estimate information directly within the request. You can also upload information into a folder within your secure document upload portal or email it directly to your accountant. Draft estimates will be created and uploaded into the From My Accountant folder located within the document upload portal. Once approved, your accountant can email Estimates to your customers. You will be copied on all communications to your customers. If you create estimates for all of the services that you perform, this service can save you up to 8 hours of time per month.
Products and Services are Created Before Customer Estimates
Your Products and Services List must be setup before your accountant can create Customer Estimates in QuickBooks Online. We offer a one-time service to setup your products and services for you. When setting up products and services that you purchase and sell to your customers, you will need to map items that you sell to an income account, and items that you purchase to a cost of goods sold account. Please see example screenshot below.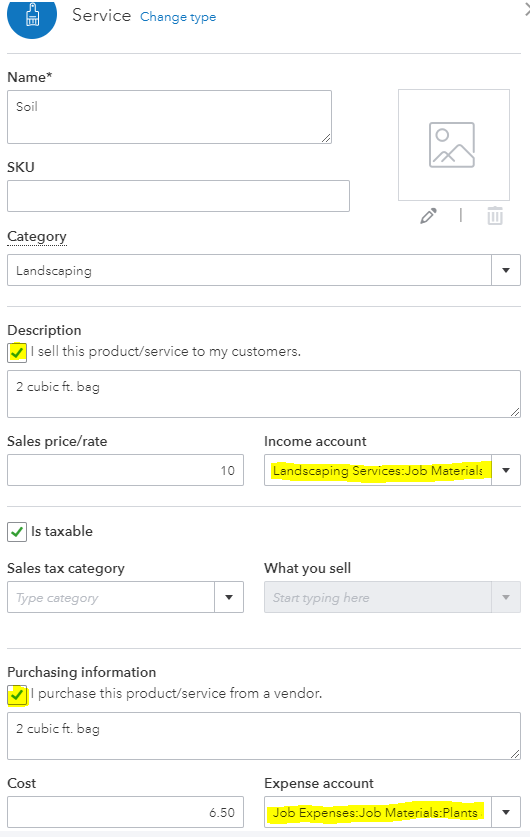 Estimates Can Be Converted into Multiple Customer Invoices
Please note that approved Customer Estimates can easily be converted into customer invoices in QuickBooks Online. We also offer monthly services for Customer Invoicing. Creating customer invoices from estimates is straight-forward and can serve as a customer sales order. Note that you can also create a purchase order from an estimate, which is an excellent time saver if you purchase the products or services that you sell to your customers. With progress invoicing, you can create multiple customer invoices from a single estimate.

Your Accountant will Create Monthly Estimate Status Reports
With this service, your accountant will create and provide you with monthly Estimate Status Reports. This report will include the estimate dates, estimate numbers, invoice numbers, amounts, and the current status of estimates of either pending, accepted, closed or rejected. There are additional fields that can be added to this report upon request. Your accountant will upload this report into the From My Accountant folder located within the document upload portal. Estimates can updated upon request with this monthly service.
Accounting and Bookkeeping Support by a QuickBooks ProAdvisor Program Member
I founded Lend A Hand Accounting because I believe accounting and bookkeeping services should be affordable, efficient, and flexible. We use flat fee pricing, which makes our accounting services a comfortable fit for any budget. At Lend A Hand Accounting, we've found a formula that really works! You select the accounting services you need, and control when you want to start or stop services. It is all in your hands! We've cut out the need for endless phone calls and long trips to the accountant's office.
Feel free to call or text me now at 360-637-4799. We can also get started right away. Go ahead and create a free account and we can automatically look at your books and let you know where you stand.
We really appreciate your business and look forward to serving all of your accounting and bookkeeping needs. Thanks again!
Gina
The Content is for informational purposes only, you should not construe any such information or other material as legal, tax, investment, financial, or other advice.