Always connect your Bank and Credit Cards to QuickBooks Online during the Setup Process. After you have established your QuickBooks Online company settings, created your chart of accounts, products and services, vendors and customer, and entered your open customer invoices and outstanding vendor bills, you need to "Connect Bank Feeds". This is a critical next step in the setup process of your new QuickBooks Online account.
It is not a good idea to "manually" enter your income and expense transactions into QuickBooks Online. You can save an enormous amount of time each week by using the QuickBooks Online "Banking" feature. The "Connected Bank Feed" is a "direct" connection to your bank and credit card account that will "automatically" pull-in your transactions to review, categorize, match and add.
Always Monitor the Banking Center & Keep Bank Feeds Connected
Note that you may be required to update login information or reconnect accounts to QuickBooks Online on occasion. This typically happens when your bank or credit card company requires a password update and when you are assigned a new credit card account number. You may also experience routine security checks by your bank or credit card company.
Follow These 4-Steps to Connect Your Bank & Credit Card Accounts
On the Dashboard, under Bank Accounts, select Connect Accounts
Choose your Bank or enter your Bank URL
Sign into your Online Bank or Credit Card Account
Select and Add to your Chart of Accounts the Bank or Credit Card Account to Connect
What to Do When You Have More Than 90 Days of Transactions
When you have more than 90 days of transactions for your business checking, savings, credit card accounts that need to be added in to QuickBooks Online, you will need to export (download) these additional historical transactions from your online account to import into your QuickBooks Online bank feed. While QuickBooks Online connects to most financial institutions so that your transactions can be downloaded automatically, note that some will not connect.
Follow these 4 steps:
Sign in to your financial institution's website with your usual login ID and Password
Choose historical transactions by account for the date range not included in your QuickBooks Online bank feed
Choose the file type Excel csv (comma separated values) with a file size under 350 KB
Upload the csv file into your bank feed and categorize transactions accordingly
What to Do When Your Connected Bank Feeds Stop Working
On occasion, your bank or credit card feed connection will break and need to be disconnected and reconnected. Our firm will send you a notification when we notice a disconnection. If you do your own bookkeeping, you will need to monitor this. When this occurs, do the following:
1.) Go to Banking and click on the account and select Edit account info
2.) Place a checkmark in the box to Disconnect this account on save

3.) Go to the website of your bank or credit card account and login to your account
4.) While logged into your online account, follow the instructions noted above to re-connect the account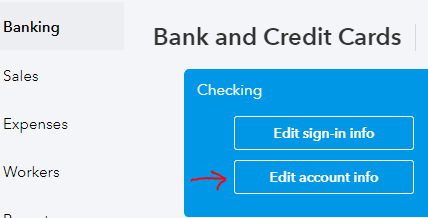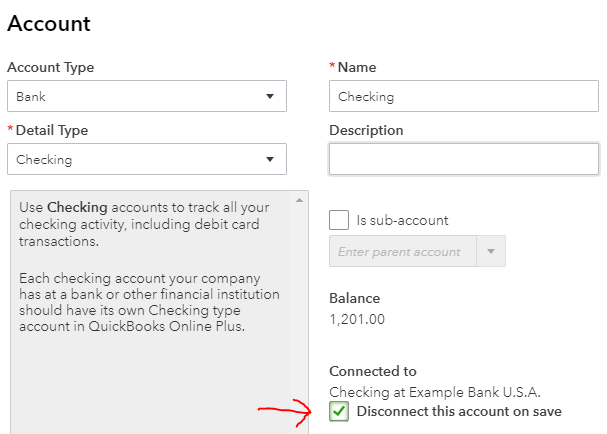 Accounting and Bookkeeping Support by a QuickBooks ProAdvisor Program Member
I founded Lend A Hand Accounting because I believe accounting and bookkeeping services should be affordable, efficient, and flexible. We use flat fee pricing, which makes our accounting services a comfortable fit for any budget. At Lend A Hand Accounting, we've found a formula that really works! You select the accounting services you need, and control when you want to start or stop services. It is all in your hands! We've cut out the need for endless phone calls and long trips to the accountant's office.
Feel free to call or text me now at 360-637-4799. We can also get started right away. Go ahead and create a free account and we can automatically look at your books and let you know where you stand.
We really appreciate your business and look forward to serving all of your accounting and bookkeeping needs. Thanks again!
Gina
The Content is for informational purposes only, you should not construe any such information or other material as legal, tax, investment, financial, or other advice.
[fusion_builder_column_inner type="1_1″ type="1_1″ layout="1_1″ spacing="" center_content="no" hover_type="none" link="" target="_self" min_height="" hide_on_mobile="small-visibility,medium-visibility,large-visibility" class="" id="" background_color="#e0e0e0″ background_im